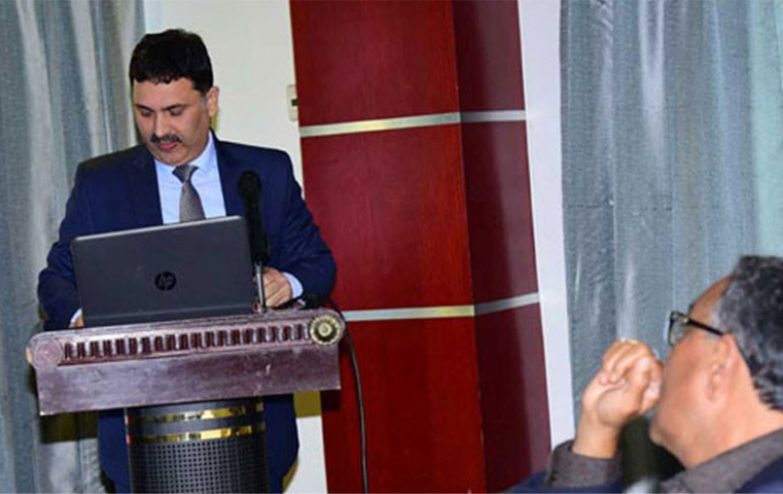 Seminar Organised By Enviropol With STAI At Merrut
On Bagasse Drying Enviropol with The Sugar Technologists' Association of India in association organized an All India seminar on "Bagasse Drying—A success story" on 3rd Feb, 2017 at Meerut, U.P.. The seminar received a splendid response and 110 delegates attended the same.
The dais was shared by the following :
Mr. Gyanedra Kumar, Advisor, Daurala Sugar Works : Chief Guest
Mr. Sanjay Awasthi: President STAI
Mr. SM Sharma: VP, STAI
Mr. DK Goel: Hon, Editor STAI
The inaugural session began with welcome address by Mr. Sanjay Awasthi. He explained the need for co-generation in sugar factories and the relevance of bagasse drying for the same. He appreciated the efforts put in by Daurala Sugar Works & Enviropol in successful development of a bagasse dryer. Mr. Gyanedra Kumar explained how effectively & efficiently the bagasse dryers are being used at Daurala Sugar Works. His colleague Mr. Rakesh Jain gave details of the steps taken by Daurala Sugar Works in collaboration with team Enviropol for the installation and improvement of the first bagasse dryer. Consequently, they went on to retrofit flash type bagasse dryers in 3 of the existing boiler units at Daurala.. The details of the increase in bagasse saving and hereby increased revenues were also shared with the delegates. The inaugural session was followed by the technical session, chaired by Mr. DK Goel. Five eminent speakers gave presentations in the forenoon session followed by discussions.
Mr. Rajesh Verma described the various systems used in the past for drying of bagasse and concluded that Flash type Bagasse Dryer is the only successful technology. It is reliable and cost effective. These dryers also clean up the flue gas. Studies at Daurala show that these dryers reduce SPM level to less than 100 mg/nm3. This can be further reduced to less than 50 mg/nm3 by incorporating a Wet ESP. Mr. Anup Kesarwani, Vice President, STAI gave vote of thanks to the dignitaries, delegates and the sponsors - M/s Enviropol Engineers Private Ltd., Noida (UP) In the afternoon, the delegates visited Daurala Sugar Works and got the opportunity to view onsite working of the Bagasse Dryers. They were pleased to see clear white smoke from the chimney. Following 5 technical presentations were made during the seminar: Dr. D. Swain, NSI, Kanpur: Bagasse Drying – The most efficient way for fuel saving in sugar industry Rajesh Verma, Enviropol Engrs: Bagasse Drying – A success story Narender Kumar,Enviropol Engrs: Introduction of Wet Electrostatic Precipitator Rajesh Verma, Enviropol Engrs: Hybrid Model of Bagasse Drier Rakeshh Kumar Jain/Tarun Agarwal, Daurala Sugar Works: Synopsis of operating experience on Bagasse Driers at Daurala.